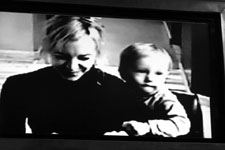 NY based photographer Paula Parrish evokes a new dimension in her body of work- between her experimental techniques of printed, mounted then reshot or projected imagery and subject matter, blurring the lines between fantasy and reality in a complex system of layers and textures.
Paula first pursued a career in documentary filmmaking and finally began her professional career in commercial photography in 2005.
Her eyes are open to everything visionary and inspirational in her life, and her work takes on a form in which one can see her attention to detail and very original vision.
Paula has enjoyed success in the last few years with her work appearing in various magazines and advertising projects. While thriving in the commercial and fashion worlds, her work easily transcends in the fine art realm. She passionately exhibits her work around the world with great response.