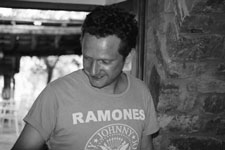 David Barrie is a creative entrepreneur and film-maker, producing and directing arts and cultural documentaries for Channel 4 and the BBC.
David's work includes films on the life of Wallis Simpson, death of rock star Michael Hutchence, interviews with Jean-Luc Godard, Georg Baselitz and Alexander McQueen and he is currently making a film for the BBC on the early Victorian painter JMW Turner. As a creative entrepreneur,
David has created and led several high profile projects that have won major awards, including the 2011 Observer Ethical and Smart Future Minds Awards and the 2009 RIBA CABE Public Space Award, sister of the Stirling Prize.