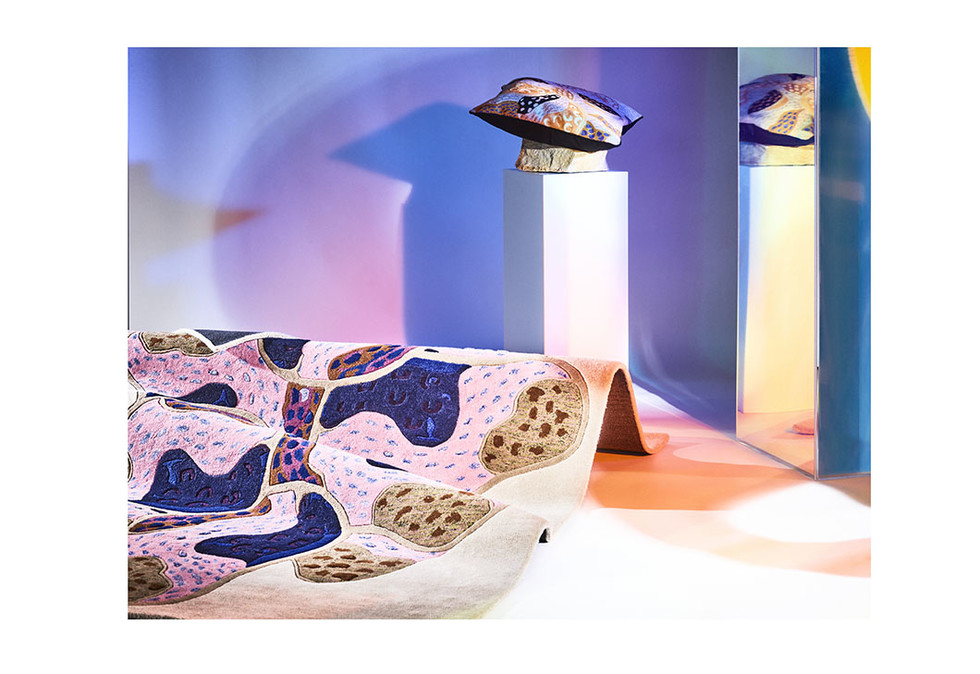 The Finnish Institute in Stockholm takes part in Stockholm Design Week by showing the exhibition Passion Fruit by Minni Havas, one of the most relevant and interesting designers and artists of the new generation in Finland. Passion Fruit is a collection of colorful textiles and work of art. Voluminous rugs are the centrepiece of the exhibition. They were designed by Havas in 2022 for Finarte, a Finnish family-owned design company.
The inspiration for Passion Fruit comes from the transience of life, different forms of passion, and – as the name suggests – the fruit motif that has often been used in visual arts as a way of symbolizing emotions.
Minni Havas' use of color, shape and the inspiration from fruits is what makes her work and the exhibition unique and emotive. Visitors will have the opportunity to reflect on their own color associations through the luscious depiction of colors that have been woven into the rugs. The exhibition will, in addition to the rugs, also showcase other work of art and textiles, which Minni Havas has designed exclusively for the exhibition at the Finnish Institute.

– Whether it is a unique drawing or an industrially produced blanket, all my work is equally important and valuable to me. They all have the same artistic process as their starting point. It comes naturally to me to channel my creativity into different techniques that I master. I aim to keep an open mind with regards to method and technique when I create new pieces, says Minni Havas.

Minni Havas is a versatile artist to say the least, who does not hesitate to move freely between different art fields. In addition to her work as a textile and pattern designer, she creates drawings, ceramic sculptures and art textiles. A strong interplay between both design and art is visible in all her work. With a strong identity, her work has been on display both in Finland and abroad, and she is one of the most talked about designers in Finland.
Passion Fruit is on display at the gallery of the Finnish Institute in Stockholm between February 8 and March 25, 2023. During Stockholm Design Week 2023, February 6th-12th, the Finnish Institute in Stockholm also offers several events under the parol Art & Design. More information about the activities is to be found on the Institute's website.
About Minni Havas
Minni Havas lives and works in Helsinki. She graduated as a designer and clothing designer from Aalto University in 2010. Havas has worked as an illustrator and clothing designer, but in recent years she has focused on pattern and textile design. She has designed textiles, for amongst others, the Finnish design companies Finarte and Vimma, as well as created prints for the French fashion house Maison Margiela.
About the Finnish Institute in Stockholm

The Finnish Institute in Stockholm presents Finnish culture and society in Sweden, supports the culture and language of the Finnish minority in Sweden, and deepens bilateral contacts between the countries. The gallery of the Finnish Institute in Stockholm is well-known for its topical exhibition program varying from art to design and fashion.
Photo credits:  Finarte