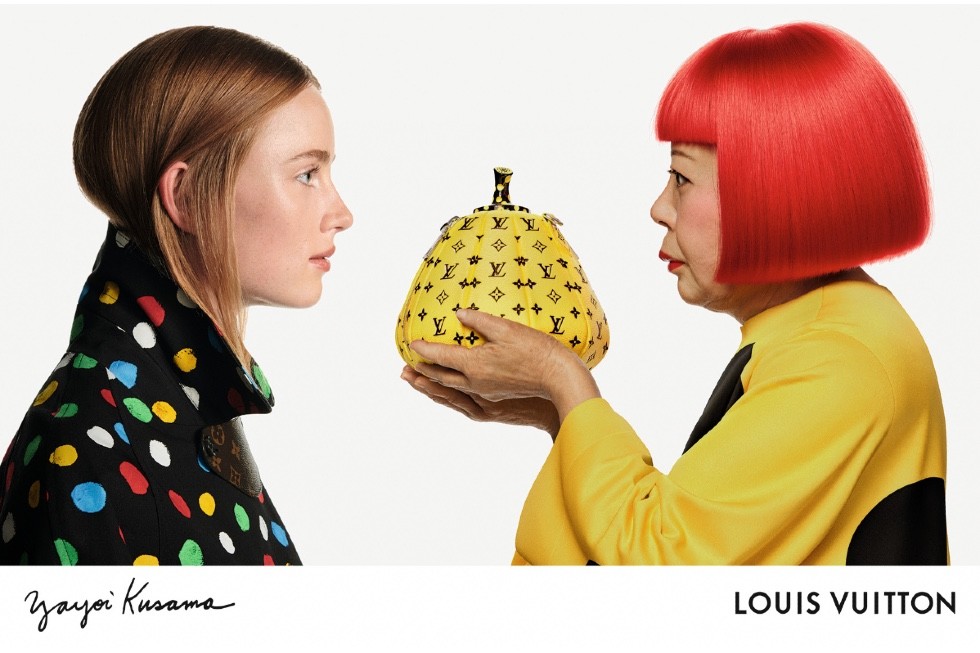 Priestess of a total, hypnotic and colourful art, Japanese artist Yayoi Kusama is known throughout the world as an avant-garde artist. True to her signature throughout the years, she applies her motifs ad infinitum, completely invading the space.

From her modest beginnings in 1929, in Matsumoto, Japan, Kusama magically and determinedly transformed her own life. Spinning enchantment from the power of her art while on adventurous quests in the wider world in the 1950s and 1960s, from Tokyo to New York, she rescued herself in
the process. She is the artist who has given a glimpse of the infinite in her artwork and, after what appeared as a hiatus to the outside world when she returned
to Japan in the 1970s, she has emerged as perhaps the pre-eminent global artist of the 21st Century and certainly the most successful living, female artist.
The last time that Louis Vuitton met the magic of Yayoi Kusama was in 2012. Yet this relationship never ended –ten years after, it evolved, and expanded with conversations continued and extended. Louis Vuitton has a long history of working with artists, which can be traced back to almost a century ago when the eponymous founder's grandson and family aesthete, Gaston-Louis Vuitton, began commissioning artists to create store windows and works
for the stores themselves. This impetus has travelled through time and has had even
more resonance in the contemporary era; since 1988, the Maison has invited some
of the biggest names in art and design to collaborate including, Sol LeWitt, Richard Prince, Takashi Murakami and Jeff Koons among others.
Here, Kusama's signature objects, motifs
and imaginings of infinity take-over the Maison and all of its product categories: from bags
to menswear; womenswear to sunglasses; fragrances to shoes and accessories. In turn, there is an evolution of some of Louis Vuitton's own emblematic pieces, making themequally part of their own and Kusama's transformative world.
Collection shoot stylism: Carine Roitfeld
Collection shoot photographer: Oliver Hadlee Pearch Still-life photographer: Bobby Doherty